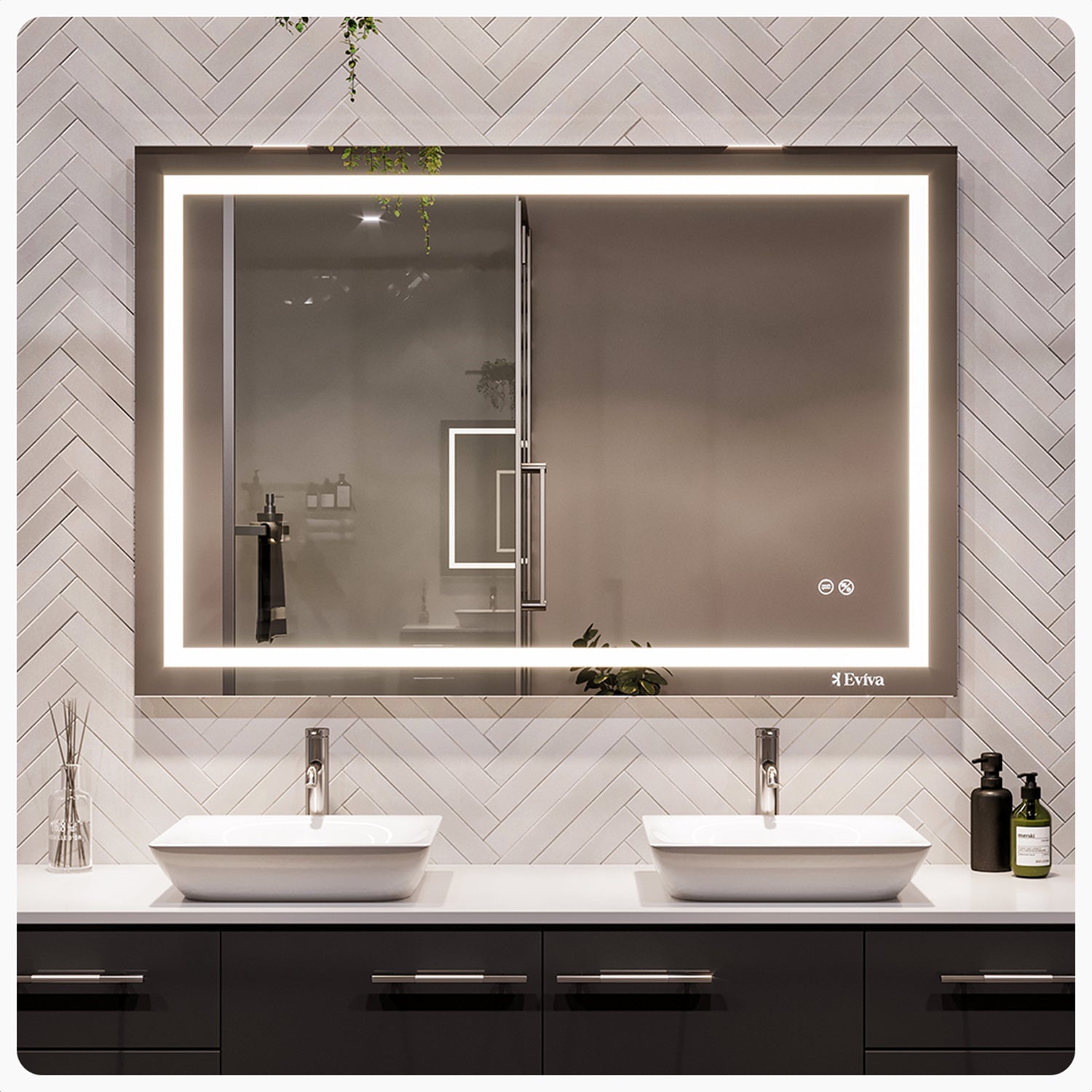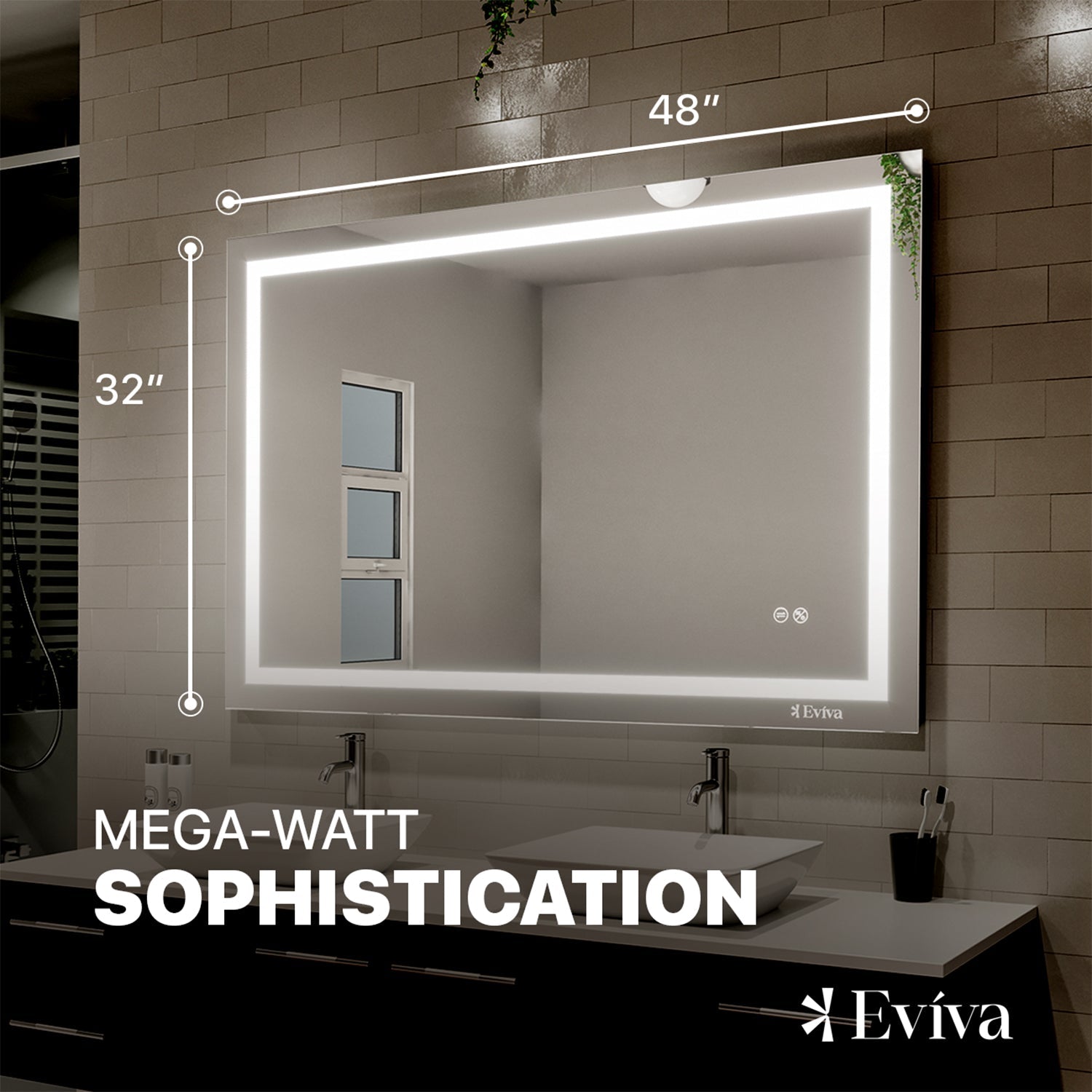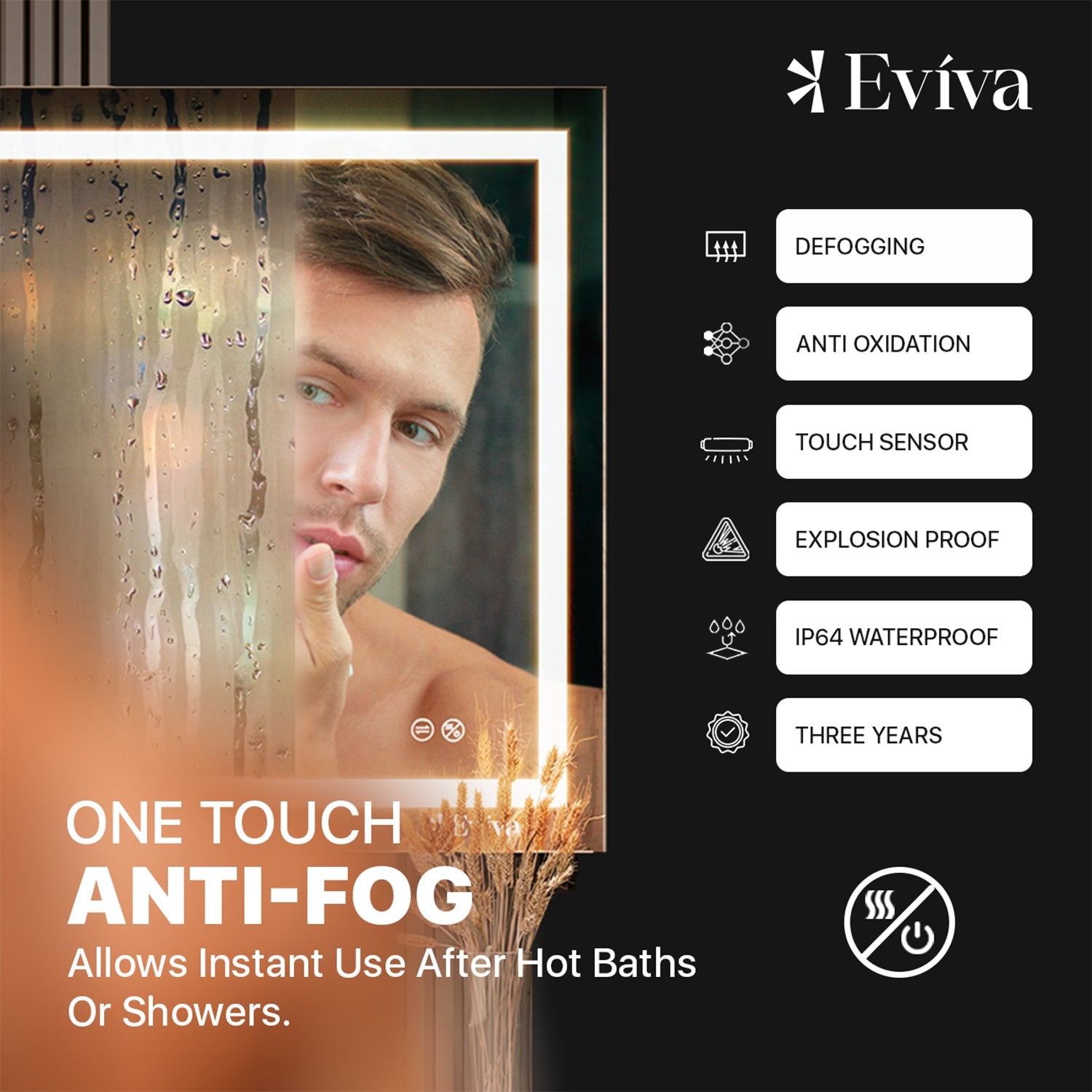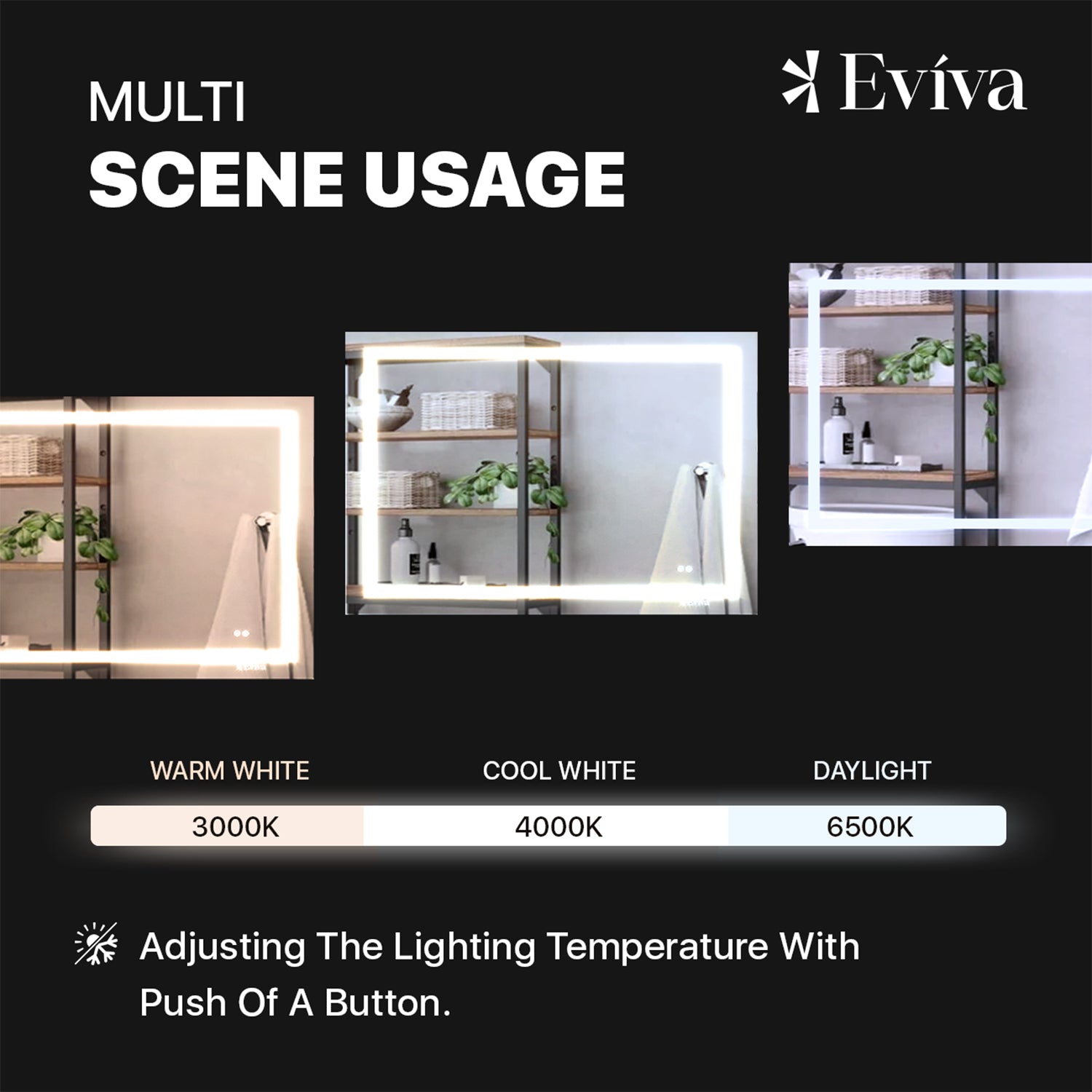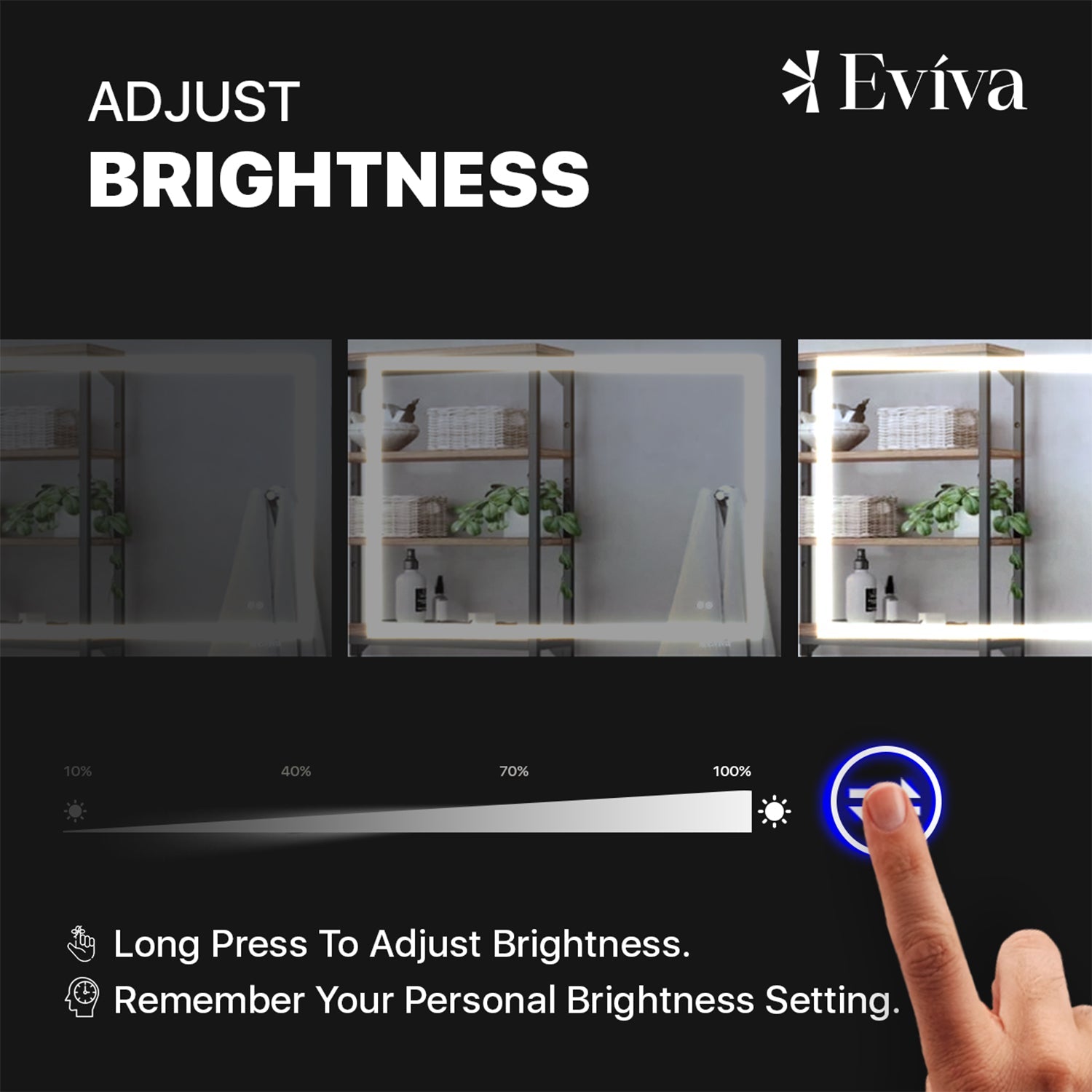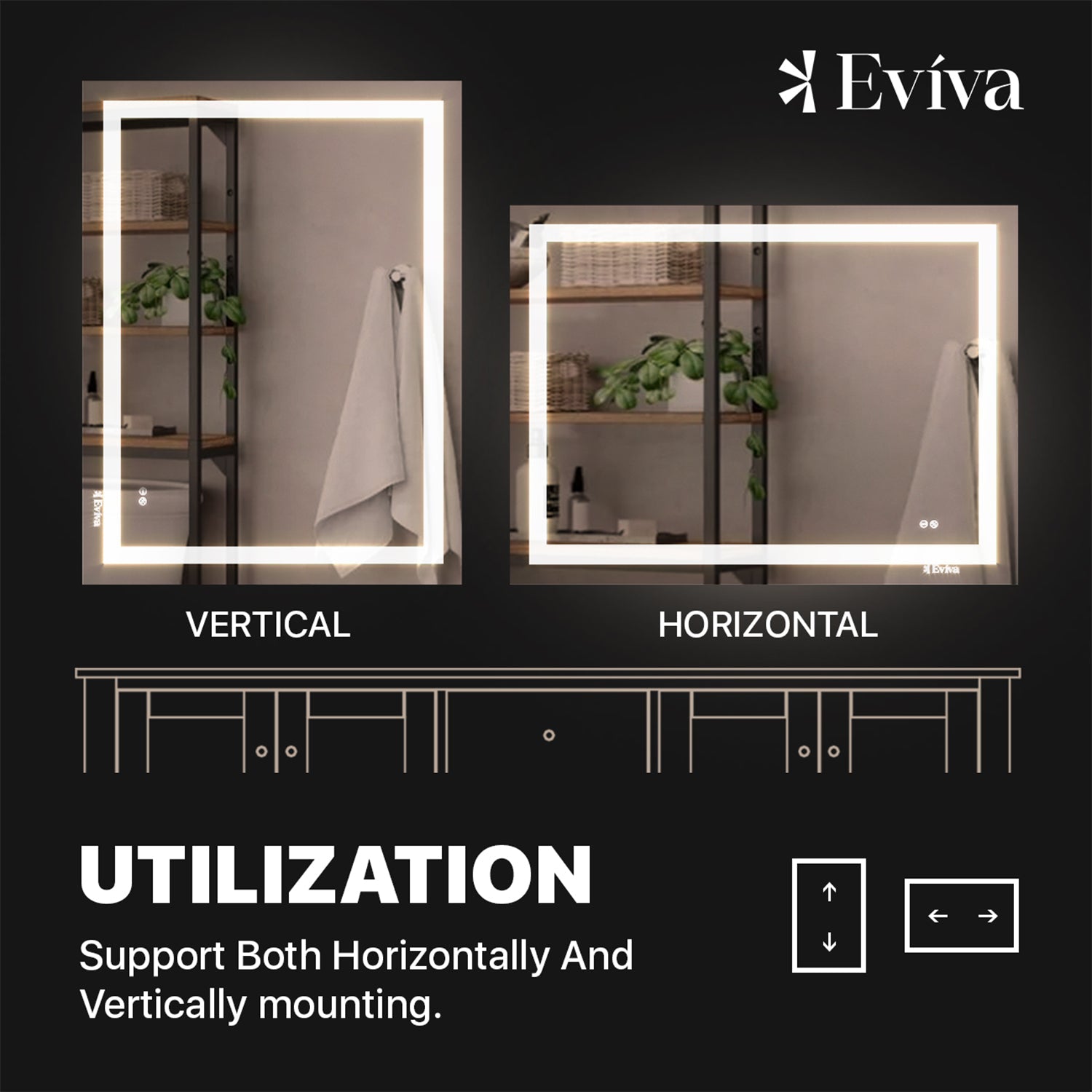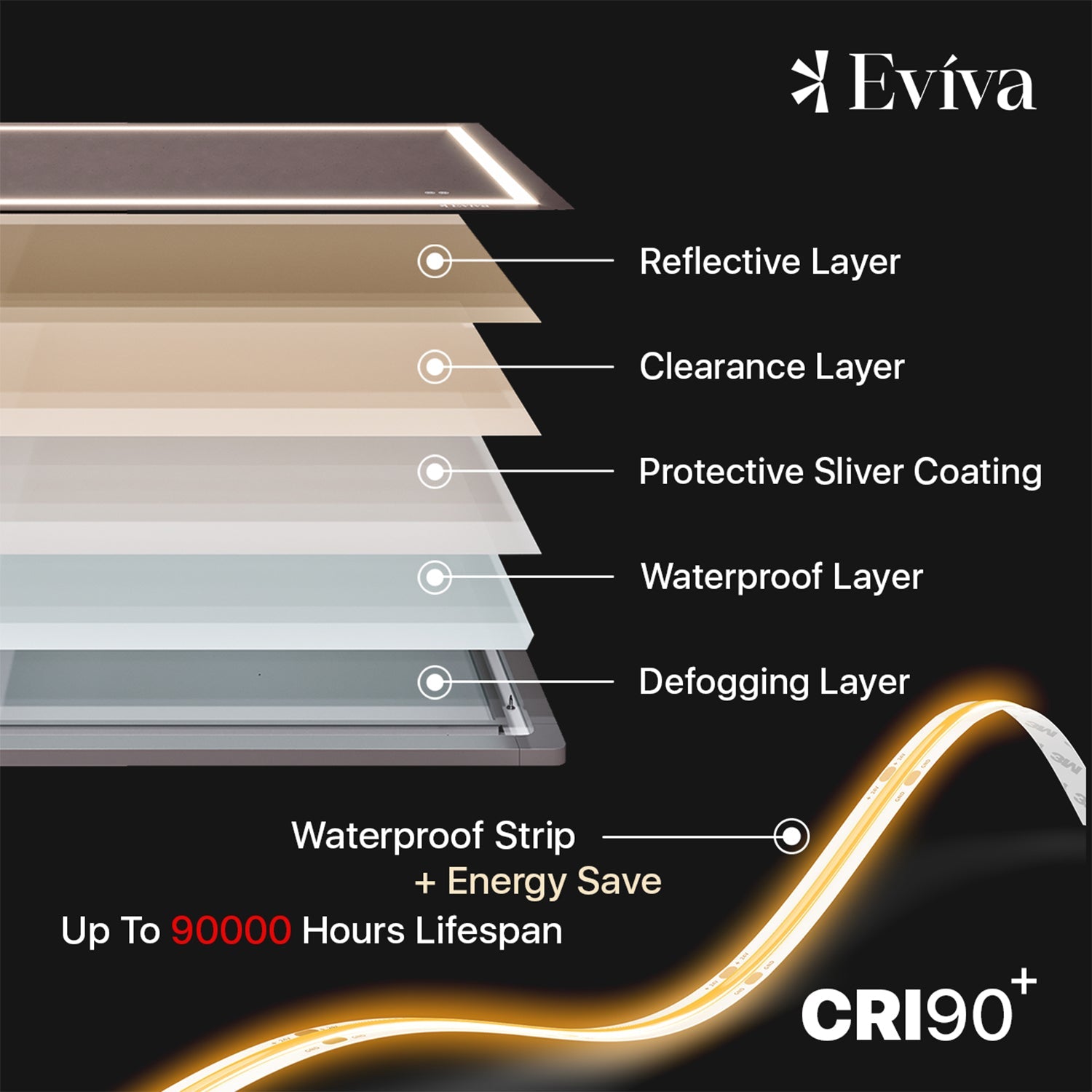 Eviva LED Bathroom Mirror with Lights and Anti Fog for Shower
SKU: EVMR101-48X32-LED
About The Product

"Enhanced Ambience — For the smaller spaces in your home

this LED mirror For bathroom vanity mirror (espejo para baño con luz LED) is an asset that enhances both size and atmosphere. your LED mirror small vanity mirror For wall maximizes your space while its LED light bright delivers an inviting glow. A Powerful light Boost — this LED light mirror bathroom - LED bathroom vanity mirror with lights disperses luminosity throughout its surroundings. Enjoy A subtle but bright glow with this light up mirror small (LED mirrors For bathroom)

this LED mirror For bathroom wall mounted giving you A well-lit reflection without shadows. Sophisticated Minimalism — this lighted mirror with light provides A distinctly attractive look that an ordinary lamp can't achieve. the elegantly modern design of your modern bathroom mirrors For vanity - mirror with light bathroom - (bathroom mirror with LED lights) instantly beautifies A room

creating A center of attraction. High-End Technology — This anti fog shower shaving LED vanity mirror lights (lighted mirrors for bathroom wall) allows instant use after hot baths or showers. It comes with a dimming feature and 2-button touch switch. The energy-saving LED mirror lights framing the bath mirror are color changeable from yellow to white. Effortless Installation — Mount your wall mirror bathroom vanity mirrors (wall mirror with lights) vertically or horizontally to suit your space. Your fogless mirror for shower (smart bathroom mirror with light LED) has 5mm copper free silver glass with aluminum back frame and PVC panel.The screws and instructions are included."
Features

1. A Beauty to Behold — Amplify the size and style of your space with this modern vintage mirror working its magic on your walls. Your light up mirror will scale up the dimensions of smaller rooms in your house while enriching the interior decor 2. Cast a Balanced Glow — Pamper your sparkling reflection with the extra attention of your LED light mirror. Your mirror lights project a steady brightness through the room

creating a pleasantly well-lit atmosphere 3. Modern Luxury Details — Your LED mirror for bathroom acts as an eye-catching wall accessory and a reliable light source. Unlike a traditional lamp

this large wall mirror occupies zero floor space while contributing to the room's aesthetic 4. Advanced Sleekness — No need to wait for this large mirror to defog after a hot bath. Your fogless mirror for shower clears on its own. It comes with a dimming feature and 2-button touch switch. The energy-saving vanity lights for mirror are color changeable from yellow to white 5. Easy Breezy Installation — Mount your bathroom LED mirror vertically or horizontally to best suit your space. Your big mirror is made of 1.2" thick copper-free silver glass with aluminum back frame and PVC panel. The screws and instructions are included
Measurements

---

Dimensions

H 32" x L 1.2" x W 48"

---

Color

---

---

---

---